SurfYogaBeer
SurfYogaBeer: Active & Social Travel Worldwide
About
At SurfYogaBeer (SYB), we create fitness adventures and social retreats worldwide that connect people through a mutual love for surf, yoga, and our personal favorite...beer (or wine, spirits, spritzs, etc.). Our travel adventures at SYB follow a simple process, all centered in a balance of activities: we detox to retox. This means we put value in bettering our bodies and minds while also enjoying the pleasures of life. We're a community of work-hard-play-hard people that go on excursions around the world to escape the rat-race with and emphasis on working out, experiencing cultures different from our own, and making friendships with individuals of the same venturesome spirit.
First making headway within the travel and tourism industry in 2014, SurfYogaBeer was at the forefront of creating community-driven adventures, one of the first brands to encourage solo travel and with fitness at the core to further stimulate physical and mental health, and to be a balance alongside all the other activities (cultural explorations, zestful nightlife, etc.). In addition to a retreat leader, every trip includes a yoga/fitness instructor and a professional photographer to capture all the special moments for the group. Proceeds from various trips and other fundraisers go toward our mission of helping bring healthcare workers on multiple retreats throughout the year.
SurfYogaBeer - more than a travel company, it's a lifestyle.
Founding Story
SurfYogaBeer was founded by former SoulCycle instructor, Mantas Zvinas, who got the idea for SYB when he hosted a few small retreats in upstate New York - having curated similar excursions with friends and family growing up in Southern California - and saw a major need within the area when he first moved to New York City in 2012. In particular, he noticed life-changing breakthroughs happened among those that took a leap of faith and chose to join the excursions without knowing any other guests, just seeking good vibes, searching for an escape and friendly connection.
Since its inception in 2014, SYB has curated more than 150+ excursions to 25+ destinations across the globe, boasting a community of 10,000+ active adventurers and brand loyalists.
Team Bios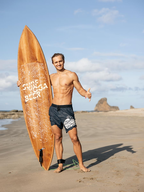 Mantas Zvinas
Founder, CEO
see bio
Mantas is a 10-year open water lifeguard veteran that hails from SoCal, taught kids surfing, kayaking, and snorkeling for six of those summers. Eventually though, he moved to New York City to teach indoor cycling to privileged adults at SoulCycle for the other 10-years of his life. Watching the company rapidly expand and helping open new studios, he even landed in London. Mantas now resides in Mexico City where he works for Commando and has opened the indoor cycling program for the fastest growing boutique fitness brand in Mexico. Mantas started SurfYogaBeer in 2014 admits his SoulCycle career and has expanded the leadership and customer base in New York City, London and now in Mexico City.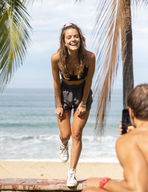 see bio
Hailing from Toronto, CA, and coming from SoulCycle as her predominant fitness background, Steph mixes all the aspects of mind, body & soul alongside operational excellence and creative strategy. Known for her high energy and invaluable leadership; this girl turns every SYB trip into a masterpiece of fitness, fun, and genuine connection.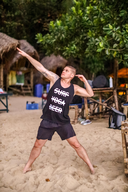 Mike Shriner
CMO, Director of Communications
see bio
Shriner is SYB's marketing, strategy, communications and partnerships maestro, raised in Akron, OH, based in NYC. A group leader that helped launch the company from the beginning stages, Shriner has guided numerous international adventures and facilitated countless local events across the U.S. and Mexico. Shriner's the most trustworthy guy you'll ever meet, and always has a great recommendation for the best dive bar and taco spot in town.
Testimonials
Loading Related Guides...
You must be signed in as a media user to from SurfYogaBeer and interact with hundreds of other media-ready brands.
Create your Media account
×