Magic Mind
Unlock Your Mind's Potential
About
Magic Mind is a revolutionary productivity beverage designed to enhance focus, clarity, and creativity. With a blend of carefully selected ingredients, Magic Mind provides the perfect combination of nutrients and natural compounds to fuel your brain and optimize your cognitive performance. Whether you're a student, professional, or creative individual, Magic Mind is here to help you unlock your mind's full potential and achieve your goals.
Founding Story
Our story started with a medical condition and a doctor's directive to ditch coffee. Our founder, James, began researching nootropics, adaptogens, and functional mushrooms to find a morning ritual that worked for him. He co-authored a book on these compounds and then fine-tuned his recipe with the help of our scientific advisory board. A decade of research and over 100 iterations later, we bring you Magic Mind.
Products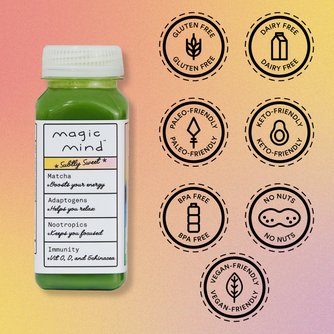 15 Bottle Pack
$59.25
You must be signed in as a media user to and interact with hundreds of media-ready brands.
Create your Media account
×
Loading Related Guides...
You must be signed in as a media user to from Magic Mind and interact with hundreds of other media-ready brands.
Create your Media account
×