Icebug
Where can traction take you?
Overview
Founder
David Ekelund
Industries

Retail

Outdoor Adventure

Website
https://icebug.com
Press Contact
Teagan Bowar
Social
About
Icebug is the world's first climate-positive footwear brand. Based in Sweden, Icebug was founded to save the world from slipping. They also want to get people outdoors more often. Whether you run or walk and at what pace you do things doesn't matter. Getting people off the couch and spending time outdoors creates change. Icebug makes shoes that allow you to be outside, no matter the season or weather.
The vision for Icebug is to be a changemaker for a society where people can thrive on a planet in balance.
Though they didn't set out to be climate activists, Icebug's love of the forest and spending time in nature quickly made it apparent that they couldn't stand by and return to business as usual as the climate crisis escalated. The guiding commitment for Icebug is to do the right thing for people and the planet, even when it hurts their bottom line. They are moving into a new paradigm where growth and profit are not prioritized above everything else. A world where business is a driving force to improve the livelihoods of many and is not fueled by exploiting people or exceeding planetary boundaries. Improving their practices is not enough for Icebug; they are encouraging the rest of the footwear industry to join them in using business as a force for good.
Founding Story
Icebug was founded by a mother and son in 2001 and is still an independent, privately owned company.
Our founding purpose was to sell shoes with dynamic steel studs for good traction. The idea was that the shoes – in addition to keeping feet warm and dry – would save people from the most extensive winter problem: slippery conditions. At first, no one believed in us. Colleagues in the industry said our product wasn't relevant enough, and no one thought we would survive in the long run. The wow factor saved us.
Even today, the wow factor is our greatest asset. Putting on shoes with any of our grip technologies and experiencing traction where you expected to slip is unique. Our wow factor makes our customers love Icebug and happily recommend our products to their friends. With that foundation, we have created shoes with grip as a separate product category, step by step.
Team Bios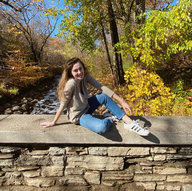 Teagan Bowar
Marketing Coordinator
see bio
Teagan Bowar is a marketing professional based in Minneapolis, MN. She earned her B.S.B. in marketing with an emphasis in Design from the University of Minnesota in 2021. Teagan has experience with social media planning and management, copywriting, and the Adobe suite. She has worked with several brands, helping them launch their social media, develop brand consistency strategies, and maintain a consistent brand voice throughout various channels.
Outside the office, you can find Teagan hiking with her dog, painting, or teaching yoga.
see bio
As the Country Manager of Icebug USA, Korey is responsible for overseeing all aspects of the company's operations, including sales, marketing, distribution, and customer relations. Her deep appreciation for the outdoors fuels her drive to provide products that excel in performance and sustainability. She understands the importance of creating footwear that not only meets the needs of athletes and nature enthusiasts but also respects the environment.
Outside of work, Korey cherishes spending time outside with her little one, nurturing their connection to the outdoors. She believes in fostering a love for nature in the next generation, inspiring a deeper appreciation for the world around us. Additionally, Korey has a passion for gardening and experimenting with new recipes in the kitchen.
Loading Related Guides...
You must be signed in as a media user to from Icebug and interact with hundreds of other media-ready brands.
Create your Media account
×