About
Ellement is the world's first personalized prenatal supplement. Packed fresh each month for each customer's unique needs during every stage of their journey—from preconception to postpartum.
Ellement takes all the guesswork out of prenatal vitamins. With 30+ key nutrients including DHA, EPA, Vitamin K1 and K2, Lutein, and Zeaxanthin, when customers choose Ellement, they get all the critical vitamins and minerals for fetal development—but none of the usual fillers and fluff. Simply put, ours are the most complete, most conscientious prenatals you'll find anywhere.
Most prenatal brands have at least one extraneous filler or additive due to mass manufacturing practices. At Ellement, we are proud to offer the first prenatal with zero fillers, additives, artificial flavors or colorants, and no silica, titanium dioxide or boron. Ellement is also free from common allergens like including gluten, soy, milk, dairy, egg, nuts, corn, and sugar, and can be made fully vegan with no fish as well.
Ellement was designed by medical professionals, and all our decisions are backed by the most recent, relevant science. Professionals know that combining ingredients like Iron and Calcium undermines absorption. Ellement is the first prenatal to offer a twice-daily packet so customers know exactly which ingredients to take in the morning and which to take in the evening.
People with conditions impacting their supplement routines turn to Ellement, including Anemia / Iron Deficiency, Preelampsia risk, Thyroid dysfunction, Gestational Diabetes, and Polycystic Ovary Syndrome (PCOS). Ellement is also customizable based on nutritional and dietary needs, such as Vegan or No Fish, Low or No Gluten, Low or No Dairy, and Common nutritional deficiencies including Vitamin D, Vitamin B12, Iron, and more.
Our supplements are made in small batches in the USA produced in a cGMP-compliant facility. We invest in rigorous third-party lab testing to confirm our product composition and screen for heavy metals and microbial contaminants.
Ellement is committed to being environmentally conscious and socially responsible. Our products are cruelty-free, and our daily packaging is 100% biodegradable and BPA-free.
Founding Story
Doreen Bloch is a serial entrepreneur who founded Ellement after her own pregnancy journey. Her "ah-ha" moment was realizing that every pregnancy is unique, yet every prenatal supplement was a one-size-fits-all solution. She teamed up with MDs and nutrition experts to design the first-ever personalized solution for prenatal supplementation.
Products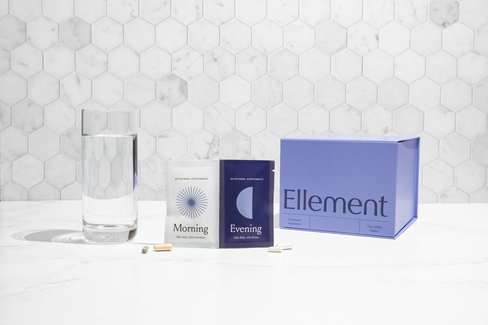 Team Bios
see bio
Doreen is the Founder of ELLEMENT, a revolutionary patent-pending pre-natal supplement brand, backed by Human Ventures and 1st Course Capital.
Prior to Ellement, Doreen founded and led Poshly Inc. (exited to Suzy in 2021), a profitable, VC-backed data business. The company's clients included L'Oréal, Shiseido, Walgreens, COOLA, Patchology, and many more D2C health and wellness brands and retailers. Poshly was honored with Fast Company's Top 10 Most Innovative Big Data Companies, InStyle Magazine's "Best of the Web"​ and L'Oreal's NEXT Generation Award. Doreen was also named to the Forbes' 30 Under 30 and Inc.'s 30 Under 30 lists.
Doreen is an Advisor to startups like ClearForMe, and an Angel Investor in female-founded companies including Common Heir, Fourplay, Garden Society, and SUPERDRIP.
Doreen's work is regularly featured by top-tier press, such as The Wall Street Journal, The New York Times, VOGUE, Teen Vogue, Inc., Mashable, Forbes, Women 2.0, Feministing, Fortune & more.
Doreen holds a B.Sc. in Business Administration from UC Berkeley's Haas School of Business. She resides in the SF Bay Area with her family.
see bio
Dr. Nathan S. Fox is a board-certified Obstetrician/Gynecologist with the subspecialty certification in Maternal Fetal Medicine. Dr. Fox completed medical school and residency in Obstetrics and Gynecology at Mount Sinai School of Medicine and his fellowship in Maternal Fetal Medicine at Weill Cornell Medical College. He is currently a Clinical Professor in the Department of Obstetrics, Gynecology, and Reproductive Science at the Icahn School of Medicine at Mount Sinai.
Dr. Fox provides comprehensive obstetrical care and high-risk pregnancy consultations at Maternal Fetal Medicine Associates as well as diagnostic ultrasound, fetal diagnosis, and invasive procedures at Carnegie Imaging for Women. He is also actively involved in research, with a focus on multiple gestations, diagnostic ultrasound, and preterm birth, and has authored many peer-reviewed publications.
Dr. Fox is on the editorial board of Obstetrics and Gynecology, the premier OBGYN research journal in the United States. Dr. Fox has won several teaching awards for resident and medical student education and serves as a Medical Advisor for Ellement.
Dr. Fox is also the founder and host of Healthful Woman Podcast, and resource for accurate, reliable, and helpful information about all areas of women's health.
see bio
Dr. Aumatma Shah-Simmons is a Naturopathic Doctor and Fertility Expert who specializes in helping couples conceive healthy babies through evidence-based holistic approaches. She is passionate about empowering women to listen to their intuition and use research-driven methods to support their fertility journey holistically.
Dr. Aumatma is a double board-certified Naturopathic Doctor & Endocrinologist, in practice for close to 15 years. She is a graduate of University of Bridgeport, College of Naturopathic Medicine (2006) with a dual Master's degree in Nutrition.
Dr. Aumatma specializes in fertility and is the best-selling author of two books: "Fertility Secrets: What Your Doctor Didn't Tell You About Baby-Making" and "(In)Fertility: Struggles, Secrets, & Successes" Dr. Aumatma was awarded the "Best Naturopathic Medicine Doctor″ award locally in 2015 & 2020 and recognized as a top "Women In Medicine" Doctor in 2020 & 2021.
Dr. Aumatma is the developer of the Fertility Success Program and works with clients all over the country. Her practice is focused on working with couples who want to start a family, whether they want to use only the natural approach or they want to work in an integrative setting, and she is a sought out speaker and trainer on this topic. She also sees a broad spectrum of women's health conditions in her practice, using an array of holistic tools to empower women to live their best lives.
She is also the Host of the Egg Meets Sperm podcast, and has been featured as the holistic fertility expert on ABC, FOX, CBS, KTLA, MindBodyGreen, The Bump, etc., along with being interviewed for countless podcasts on topics of fertility, pregnancy, and postpartum health.
Testimonials
Loading Related Guides...
You must be signed in as a media user to from ELLEMENT and interact with hundreds of other media-ready brands.
Create your Media account
×