Centr
Your total well-being delivered
About
Centr is a transformative wellness platform that empowers individuals to infuse vitality into their daily lives, driven by Chris Hemsworth's personal journey towards holistic well-being. Founded as a result of Chris's pursuit of optimal health, Centr has evolved into a global movement, offering expert tools, motivation, and guidance to help people embrace healthier routines, achieve goals, and cultivate happiness.
Guided by a set of core values that promote enjoyment, self-determination, mutual support, inclusivity, and curiosity, Centr provides personalized wellness coaching that encompasses physical activity, nutrition, and mental clarity. It's not just about workouts – Centr's interconnected ecosystem combines specially designed equipment with expert guidance, nourishing recipes, and mental wellness practices to foster a comprehensive approach to a fulfilled life. Whether you're starting your day, winding down, or seeking balance, Centr is dedicated to making Chris's vision of accessible health and wellness a reality for all.
Founding Story
Centr's origins are rooted in the personal wellness journey of Chris Hemsworth, the acclaimed Australian actor well-known for his portrayal of Thor. Driven by an unwavering passion for health and well-being, Chris embarked on a transformational path that would eventually inspire millions worldwide.
The pivotal moment came when Chris's own pursuit of training at a superhero level necessitated collaboration with top-tier wellness experts. This endeavor illuminated the profound synergy between fitness, nutrition, and mental well-being, sparking a fervent desire within Chris to democratize this holistic approach for individuals across the globe.
With this vision as the cornerstone, Centr emerged to provide a platform that empowers people to build enduring healthy habits. Chris's journey, from his personal commitment to the realization of interconnected well-being, underscores Centr's mission to offer personalized coaching encompassing movement, nourishment, and mindfulness. It is this deeply rooted narrative that propels Centr forward, ensuring that the aspiration for vibrant living is within reach for everyone, guided by the spirit of a Hollywood superstar's transformative revelation.
Products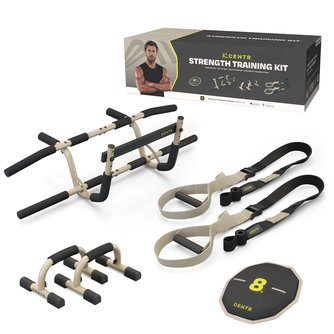 Centr Strength Training Kit
$98.00
You must be signed in as a media user to and interact with hundreds of media-ready brands.
Create your Media account
×
Team Bios
Andrew Sugerman is CEO of Centr, a health and wellness ecosystem founded by Chris Hemsworth. In his role, Andrew is leading the global expansion of Centr as it is building to enter a new category of health and wellness with the impending launch of state-of-the-art fitness equipment and accessories that will complement its digital platform. Prior to Centr, Sugerman spent 12 years at The Walt Disney Company where he was Executive Vice President, Global Digital Media & Publishing and oversaw the rapid expansion of the Disney, Marvel, and Lucasfilm franchises across mobile apps, short-form content, AR, and VR, books, magazines, and comics. He has also held other executive roles in the entertainment industry at The SpringHill Company and Invisible Narratives. Andrew is passionate about well-being and is an avid runner.
Chris Hemsworth is a leading actor who has starred in various roles that have required rigorous training, which has allowed him to work with the best of the best throughout his career. Early on, Chris experienced the power of interconnected fitness, nutrition, and mental wellness, which inspired him to create Centr. Since he founded the brand in 2019, Chris has been determined to make this level of education and transformative wellness available to more people around the world so they can lead happier, healthier, and more fulfilling lives. What started as Chris Hemsworth's personal wellness journey has evolved to inspire millions to unlock total well-being.
Loading Related Guides...
You must be signed in as a media user to from Centr and interact with hundreds of other media-ready brands.
Create your Media account
×