Overview
| | |
| --- | --- |
| Date Established | 05/2023 |
| Founder | Kimberle Lau |
| Headquarters | New York |
| Industries | Food |
| Website | https://bakemehealthy.co/ |
| Press Contact | Kimberle Lau |
| Social | |
About
Bake Me Healthy is an Asian-owned and certified Women-Owned healthy baking business on a mission to help others bake better for themselves, their families, and the planet without compromising health, taste, or the planet. It was founded by Kimberle Lau, a former beauty executive, who developed lactose and egg intolerances from pregnancy and then had to eliminate soy from her diet due to becoming high-risk for breast cancer. Bake Me Healthy offers convenient, delicious baking mixes that are Top 9 Allergen-Free, plant-based, refined sugar-free, and upcycled. 
Bake Me Healthy is dedicated to fighting climate change and is proud to be a member of 1% for the Planet, donating 1% of our sales annually to approved environmental non-profits, and a member of the Upcycled Food Association. All packaging is made with 43.5% post consumer recycled materials.
Founding Story
As a former beauty executive, Kimberle Lau loved transforming innovative ingredients into beautiful results. But in 2020, life took an unexpected turn, and she faced various health challenges. Pregnancy brought lactose and egg intolerances, and then, the daunting diagnosis of being high-risk for breast cancer forced m to eliminate soy from her diet. It was during these trying times that she discovered the true power of food, not just as sustenance but as a catalyst for positive change.
Kimberle has always had a passion for baking, and as a mom, she became even more committed to providing her family with healthier alternatives. Her journey of adapting traditional recipes to accommodate her dietary restrictions ignited a spark within her. And when she saw the impact of these modifications, not just on my well-being but also on the lives of her allergy-mom friends, she knew she had to do something bigger.
That's when Bake Me Healthy was born. Their mission is simple yet profound: to empower individuals to bake better for themselves, their loved ones, and our planet. They believe that nobody should have to compromise on health, taste, or the environment when indulging in their favorite treats.
Bake Me Healthy offers a wide range of convenient, delicious plant-based baking mixes that are Top 9 Allergen-Free and refined sugar-free. But our commitment to the planet goes even further. They proudly incorporate upcycled ingredients into our mixes, championing sustainability and the fight against climate change.
But their innovation doesn't stop there. Bake Me Healthy is built on the principles of inclusivity and empowerment. Their mixes are designed for everyone - all ages, genders, ethnicities, and dietary restrictions. Whether you're vegan, gluten-free, lactose intolerant, or just health-conscious, you deserve to treat yourself without worry or guilt.
Products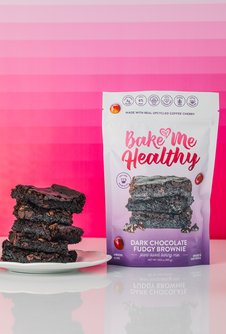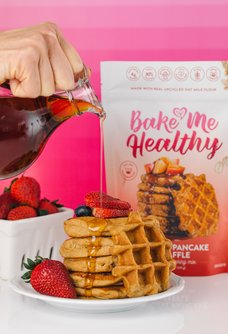 Team Bios
see bio
Kimberle Lau is an Asian American mom of two who courageously pursued her passion for healthy baking. Leaving behind a successful career as a beauty executive, Kimberle's life changed when she became lactose and egg intolerant during her pregnancies. Then, in 2020, she faced the daunting prospect of becoming high-risk for breast cancer, leading her to eliminate soy from her diet.
Turning adversity into opportunity, Kimberle founded Bake Me Healthy, a venture aimed at empowering others to bake better for themselves, their families, and the planet. Her yummy plant-based baking mixes are free of the Top 9 Allergens and refined sugar, ensuring everyone can indulge without compromise.
What sets Bake Me Healthy apart is Kimberle's commitment to sustainability. She thoughtfully incorporates upcycled ingredients, fighting food allergies and food waste with every homemade treat.
Kimberle Lau's journey is a testament to resilience and determination. Her brand, Bake Me Healthy, isn't just about baking; it's a symbol of hope and inclusivity. With each mix, she shares love, health, and the joy of delicious treats. Join her in the movement towards a better, more compassionate world, one mouthwatering creation at a time.
Loading Related Guides...
You must be signed in as a media user to from Bake Me Healthy and interact with hundreds of other media-ready brands.
Create your Media account
×