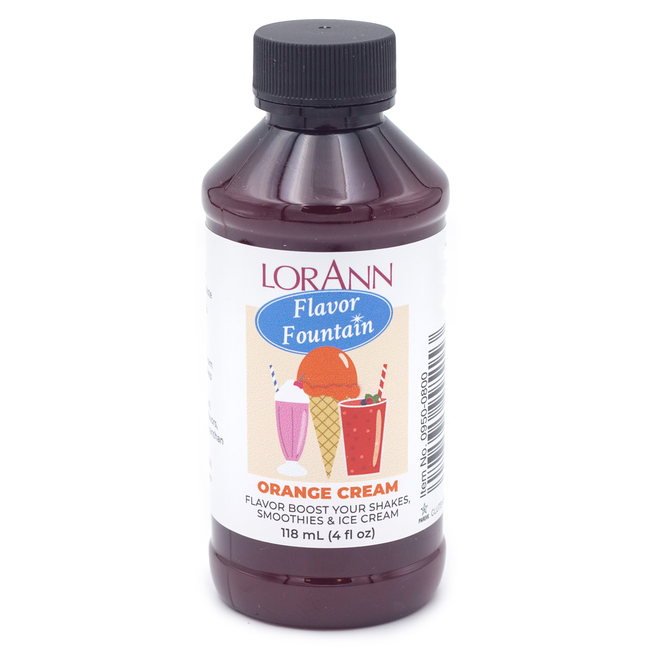 Orange Cream (Dreamsicle), Flavor Fountain
$6.25
Orange Cream (Dreamsicle), Flavor Fountain
$6.25
You must be signed in as a media user to and interact with hundreds of media-ready brands.
Create your Media account
×

Request Samples
×
Vanilla and orange flavoring reminiscent of the famous Popsicle created by Frank Epperson in 1905. This flavor is sure to remind you of the times you chased down the ice cream truck! 
LorAnn's Flavor Fountain brand flavors are specially formulated for use with soft-serve yogurt, ice creams, sherbets, hard ice cream and all frozen dairy desserts. Also ideal for flavoring diet and protein shakes. These flavors are complete with color and are suitable for low-sugar and low-fat preparations. Can also be used as a flavor for baking and frostings.
Suggested Starting Usage Levels:
• 1 oz. to 1 gallon of ice cream or yogurt base
• 1/8 oz. (1 tsp.) per 16 oz. of shake or smoothie
• 1/8 oz. (1 tsp.) for use with single-serve flavoring systems
Kosher certified  •  Gluten-free  •  Water soluble
Related Products
Related Guides
Share
Orange Cream (Dreamsicle), Flavor Fountain
Check out Orange Cream (Dreamsicle), Flavor Fountain, a product from LorAnn, on Press Hook!