Sourhouse
A warm, safe home for your sourdough starter
About
At Sourhouse, we design and market products & experiences that inspire people to make more sourdough bread and other fermented foods.
Our strategy is to design objects that become the center of daily rituals in the kitchen and an expression of their personal identity to invite more baking.
Our experiences create platforms for our community to gather, share and learn.
Founding Story
During a divisive time plagued with political, economic and health crises, people found relief in their kitchen making loaves of homemade sourdough bread.
When people started working from home and commercial yeast disappeared from shelves in March of 2020 people rolled up their sleeves and started making bread like their great-grandmothers did...real bread, raised slowly with wild yeasts. And then they shared it madly on social media.
It shouldn't be a surprise, the interest in the gut biome and fermented foods has been percolating for years. Homemade, fermented foods like sourdough bread are healthy, delicious and they bring people together in a spirit of warm, generosity. 
We needed a warm loaf of sourdough bread in 2020 and we still need it.
We see a world where fermented foods aren't a band-aid, they are again our daily food shared with good will. Healing our communities, wallets, bodies and spirits.
Team Bios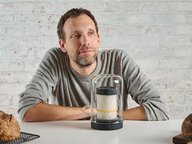 Erik Fabian
CEO/Co-Founder
see bio
Erik led brand marketing teams for Moleskine America and Greenhouse Software. Provided brand strategy and marketing consulting for brands like 3Doodler, ViaHero, and Paperblanks. Erik is a homebaker who has been making "good enough" sourdough loaves to feed his family for several years. He is also a curious cook, urban forager, and hobbyist sauerkraut maker.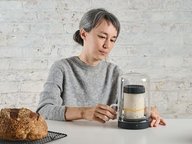 Jennifer Yoko Olson
CPO/Co-Founder
see bio
 Jenny is an industrial designer whose work has been featured in Design Milk, Core 77 and Fast Company. She has created projects for Thinx, Starry, and Base 10 Furniture. Jenny is a new homebaker in search for the perfect loaf. She eats natto everyday.
Loading Related Guides...
You must be signed in as a media user to from Sourhouse and interact with hundreds of other media-ready brands.
Create your Media account
×