Latin Goodness Foods LLC (aka MasPanadas)
MASPANADAS: Better flavor, better nutrition - authentic Latin food that caters to your fast life!
About
MASPANADAS, a family company created by Margarita and her husband Andy, specializes in delicious, nutrient-dense Latin American recipes. Born out of a love for authentic Latin flavors, the company focuses on using premium ingredients in all of its recipes, creating empanadas that are packed with protein, low in calories, and come in a variety of flavors. Their mission is to offer foods that not only bring the family together but also offer convenience without compromising on quality. Their belief is rooted in the principle that more is better - better nutrition, better lives, better taste, and a better community. MASPANADAS commits to enhancing lives through scrumptious and nutritious meals.
Founding Story
MASPANADAS was brought to life by Margarita and Andy out of their passion and necessity to find healthier, tasty family meals that could accommodate their busy schedules. Margarita, having grown up in Colombia, was inspired by the meals she learned to prepare in her father's restaurant. Andy, a Virginia native, brought his love for modern American cuisine to the mix. Their unique blend of Latin roots and modern cuisine, coupled with countless testing, led to the creation of MASPANADAS - a testament to their commitment to making real food that fuels real life, especially for those in the fast lane.
Team Bios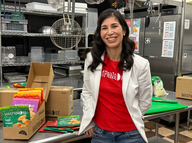 Margarita Womack
Founder & CEO
see bio
Margarita is a dynamic entrepreneur with a strong background in scientific research. She is the visionary founder behind Latin Goodness Foods, a company dedicated to providing clean and better-for-you food options that celebrate Hispanic cuisine's vibrant traditions while empowering underserved women in the community. At the heart of their offerings is the flagship brand, MasPanadas, which reimagines the beloved "Hot Pocket" with a Latin and nutritious twist. These convenient and microwavable snacks or light meals are packed with protein, fiber, and vegetables, making them a versatile choice for any occasion, whether it's a relaxing evening with a glass of wine or a quick energy boost during a busy day. Latin Goodness Foods has garnered recognition and accolades for its innovative approach. In 2022, Margarita was honored as the Small Business Leader of the Year by the Washington Business Journal's CEOs of the Year Awards. She was also distinguished as a recipient of the prestigious EY Entrepreneur Of The Year™ for the Mid-Atlantic region. Additionally, Latin Goodness Foods was recognized as one of the Most Disruptive MBA Startups by Poets & Quants in 2019. Margarita's inspiring journey as an entrepreneur has been featured in BBC Stories, highlighting her resilience and commitment to making a positive impact through her business.
Loading Related Guides...
You must be signed in as a media user to from Latin Goodness Foods LLC (aka MasPanadas) and interact with hundreds of other media-ready brands.
Create your Media account
×