Halo Ball
The first EVER truly portable basketball hoop.
About
Halo Ball is a brand that creates unique games for everyone to play no matter your age, size, or ability. This is a revolutionary product that opens the door for kids and adults alike to live out their dream of dunking and playing basketball anywhere, literally anywhere.
With Halo Ball sets circulating around the globe, the mission to get people up, active, and making connections with others is only getting started. We are looking to bring fun and competition to every park, beach, and backyard out there!
Founding Story
The pandemic forced the closure of basketball courts everywhere, which led a group of college buddies to create a basketball hoop that could be set up using what was around us: trees and poles. Applying slackline technology and a custom rim, they came together to turn this idea into a reality; now known as Halo Ball: "the floating basketball hoop".
After selling out their first order in less than a month, Halo Ball was featured on ESPN, House of Highlights, ABC Localish, and more becoming an instant sensation. The product has provided an opportunity for people to bond with family and friends, experience the thrill of competition, and spread happiness. We are grateful for everyone who has supported us on this journey and look forward to taking our game to the next level.
Products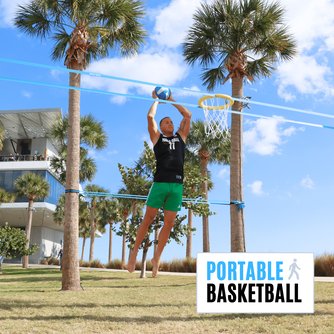 Halo Ball Set
$79.99
You must be signed in as a media user to and interact with hundreds of media-ready brands.
Create your Media account
×
Team Bios
see bio
A University of Houston Alum, Brandon has decided to dedicate his life towards games. He loves creating games that center around inclusion and creativity. His personality is upbeat but laid back and he values the people in his life over anything else. 
A University of Wisconsin-Madison Alum, Benjamin loves startups, having contributed to many already. He aims his entrepreneurial efforts towards changing the world for the better: Halo to the Moon!
see bio
A University of Missouri student, Nate aspires to live a life of meaning. To be someone that can look at the world every fay with grace and gratitude. He is a person that wakes ip with a fire in him to attack the tasks ahead.
Testimonials
Loading Related Guides...
You must be signed in as a media user to from Halo Ball and interact with hundreds of other media-ready brands.
Create your Media account
×