Ahara
"Nourish Your Health with Precision: Unlock Ahara's Customized Nutrition Solutions!"
About
Ahara is a personalized nutrition solution that leverages technology, nutritional science, and data science to offer customized diet plans and recommendations based on multi-omic inputs. It was founded by Dr. Melina Jampolis, a nutrition specialist, and Julie Wainwright, a tech entrepreneur, with the aim of making food-first nutritional philosophy accessible to all through a proprietary technology platform. Ahara provides a science-based, food-first nutrition plan that accounts for individual nutrient requirements and responds to one's biology, environment, and health history, and it's supported by a team of international nutrition experts.
Founding Story
The founding story of Ahara begins with the meeting of two innovative minds: Dr. Melina Jampolis, a physician nutritionist specialist and author, and Julie Wainwright, a seasoned tech entrepreneur and founder and CEO of The RealReal. Their shared vision for a health-driven future, coupled with Julie's personal experience as Dr. Melina's patient, sparked the idea to make Dr. Melina's effective, food-first nutritional philosophy more widely available. By combining technological advancements with nutritional and data science, they created Ahara, a personalized nutrition solution that leverages multi-omic inputs—including health questionnaires, genetic, epigenetic, and biomarker testing—to provide individuals with a unique, science-based approach to improving their health and well-being.
Products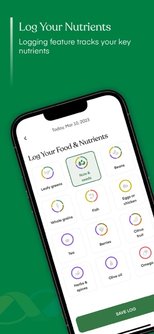 Team Bios
see bio
Julie Wainwright is the CEO and co-founder of Ahara, a precision nutrition company founded in 2022. The company raised a seed round of $10M+ in funding with investors including Greycroft, Headline, SHAKTI, and others.
An entrepreneur and e-commerce pioneer, she has been at the helm of leading tech and consumer companies for more than 20 years. In 2011, Julie founded The RealReal and grew it into the preeminent luxury consignment company it is today, changing forever the way people buy and sell high-end luxury. In addition, Wainwright raised sizable venture capital funding, and took The RealReal public in 2019. One of just 23 women in history to found and lead a company through an IPO.  Wainwright left The RealReal to found Ahara in 2022.
Wainwright is a frequent speaker at industry events including the Forbes Women's Summit, Code Commerce, Vanity Fair's New Establishment Summit, New York Times Luxury Summit, Barron's Copenhagen Fashion Summit, and Financial Times Business of Luxury Summit, as well as at top universities including Stanford University and Purdue. She has received several prestigious industry awards and accolades including: Entrepreneur's 50 Most Daring Entrepreneurs, Fast Company's Most Creative People, CNBC's Disruptor 50, Inc. Magazine's 100 Female Founders List, Retail Innovator of the Year, and Business of Fashion's BoF 500.  Most recently, she was celebrated by Forbes in their inaugural 50 successful women over 50.
see bio
Melina B. Jampolis, MD is an internist and board-certified physician nutrition specialist (one of only several hundred practicing in the United States).  
For the past 20+ years she has specialized exclusively in nutrition for weight loss, disease prevention, and treatment. Her clinical work in the new and rapidly growing field of precision nutrition and nutrigenetics led to her creating AHARA, the only food-first personalized nutrition solution that translates clinically validated science into practical nutrition for optimal health. Along with co-founder, serial tech entrepreneur Julie Wainwright, she can offer everyone ultra-personalized nutrition recommendations and a practical, actionable way to get them.
A sought-after media she regularly contributes to news and entertainment outlets, her expertise is included in a myriad of health and lifestyle magazines, and she has authored four books. Her successful podcast Practically Healthy by Dr. Melina  features experts and celebrities from the worlds of professional sports, medicine, nutrition, and fitness.  Dr. Melina maintains an active practice in Los Angeles where she lives with her husband and their two young sons. IG: @drmelina
Loading Related Guides...
You must be signed in as a media user to from Ahara and interact with hundreds of other media-ready brands.
Create your Media account
×